President Ibrahim Mohamed speaking at a press conference today has announced that borders will re-open on July 15.
Much anticipated date was announced during a press conference held today evening. Speaking at the press conference, the president highlight that the country has achieved a positive outcome from its efforts to control the corona virus and is now entering its second phase to relax the restrictions imposed for COVID-19.
The President noted the re-opening of the country's borders is one of the most important decision. The president announced that Maldives would re-open all international airports and allow resorts to recommence services start on July 15 on wards.
The president has also highlighted that the government is now expecting to see 850,000 tourist arrivals this year, including the 382,762 tourist arrivals recorded prior to the closure of the borders on March 27. Which is huge drop compare to the previous years of 1.7 million tourist arrival.
In reference to the following the Ministry of Tourism has also released the following guidelines for tourist whom are travelling to Maldives as shown below: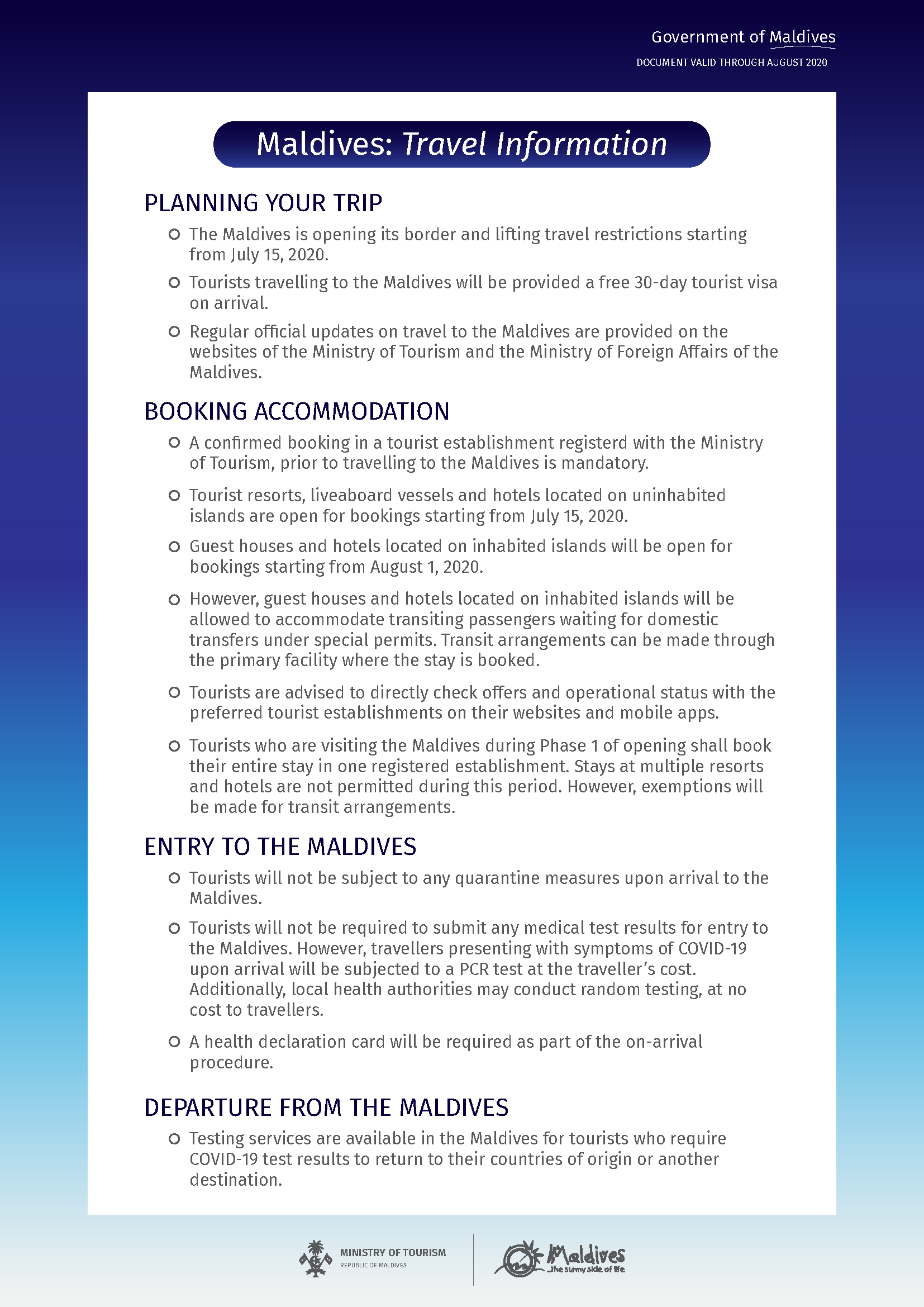 While the ministry has released the following guidelines the president noted that resort would be able to commence operations in July and guesthouses would be allowed to open for service starting from August on wards.
The president also stated that China which is one of the top markets for Maldives would not restrict Chinese tourist travelling to Maldives. But the government has noted that the all tourist from china would require to do test before returning to China. Furthermore the government has noted that arrangements has been made to do COVID-19 testing in airport.
Furthermore, The government has noted that 30-days tourist arrival visa would not be subject to any quarantine measure upon arrival. The government is also hoping that tourism industry would gain ground soon to lift the country from its current situation.